It might be confusing looking for the most potent Indica Strains. Marijuana plants are mainly of two species: Sativa and Indica, and now we have the hybrid version. If you are not an experienced smoker, choosing the right one for you might be challenging. In this post, we will focus our attention on the strongest strain of Indica. If you need information on just the highest THC strains, you can check on our previous post.
Heaviest Indica Strains
We have pure Indica and Indica dominant strains under this category. The potency of Indica is determined by the level of psychoactive compounds, mainly THC and CBD. Every smoker knows that the higher the THC content, the potent the strain is.
Indica cannabis strain is characterized by full-body effects, including, but not limited to, deep relaxation and insomnia reduction. Many users have reported other positive effects such as reduced nausea and increased appetite.
Compared to Sativa, Indica marijuana strains have higher levels of THC. As a result, the effect is always a deep relaxation accompanied by couchlock. The strongest Indica strain will definitely result in deep relaxation even when taken in small doses, making it the best for an evening treatment.
Most Potent Indica Strains
As mentioned, the potency of a marijuana plant is determined by the levels of its psychoactive compounds. The most potent Indica strains in this list or that you will find have high THC levels that might not be for novice smokers. If you are not used to such a high level of stimulation, seek advice before using any of the following most potent Indica strains:
Strawberry Banana
If you need the strongest strain of Indica, then you can try out the Strawberry Banana. This is a cross between Strawberry Bubblegum and Crocket's Banana Kush, resulting in a 70% Indica cannabis strain with a high THC level of 26%. As reported by most experienced stoners, Strawberry Banana high begins with a medium head buzz that slowly developed into a full-blown euphoric and uplifted head high.
Strawberry Banana is one of the Strongest Indica Strains that are of great medicinal value. Despite the couchlock and sedation effects, this strain has been used in relieving chronic pain, stress, depression, and loss of appetite. It is also the best heavy Indica Strains if you have a problem falling asleep.
Purple Kush
Purple Kush is a pure Indica strain that resulted from crossing the Hindu Kush and Purple Afghani strains. It is one of the most potent Indica strains in the world, with an average THC level of 22%. With adjustments in the growing methods, harvesting, and curing, some growers have managed much higher THC content.
The strain is characterized by an immediate uplifting and euphoric high that relieves you from any chronic pains and stress-related conditions. The effects spread to the entire body, leaving you worry-free and fully sedated. If you have any problems with falling asleep, then taking a few puffs of this will give you a peaceful sleep.
Death Star
Death Star is an Indica-leaning hybrid strain resulting from crossing Sensi Star and Sour Diesel, with the best characteristics of its parents. With 75% Indica, this strain has all the effects linked to cannabis of this class. It is medical marijuana whose calming effects have been used for overcoming conditions such as nausea and insomnia. If you are compiling your list of the most relaxing Indica strain and most potent, this is your best choice. It boasts a high THC level of up to 27%.
Skywalker OG
Skywalker OG, sometimes called the Skywalker OG Kush, is 85% Indica. It is a highly potent strain with a THC level range between 20 and 25%, resulting from crossing Skywalker and OG Kush. Experienced stoners describe it as one of the cannabis Indica strains, which is a potent strain that will leave you couch-locked and fully relaxed. Like all other Strongest Indica strains, Skywalker OG is used for the treatment of insomnia, chronic pain, stress, and mild depression.
Ice Wreck
Ice Wreck is neither Indica-dominated nor Sativa-dominated, and it is not a pure strain. With s 1:1 ratio of the two, it is a uniform blend of the best that both can offer. With a high THC level of 27, you can expect intense euphoria, relaxation, sedation, and tingly sensations. Couchlock is rare but may occur if Ice Wreck is taken in large quantities. Medical users have used it in relieving stress, chronic pain, headache, migraines, and many other recurring conditions.
Chocolate OG
This is a pure Indica strain that is named after its dark appearance. It is a cross between the True OG and Chocolate Rain. It is one of the marijuana strains with the highest amount of THC in Indica, averaging at 26%. Some growers have reported a whopping32%. If you are looking for an Indica strain for sleep, then you can rely on the lulling and sedation effects of Chocolate OG. It is also characterized by a giggly euphoric feeling and relaxing high that will drive away all your pains and stress.
Grease Monkey
Grease Monkey is 70% Indica with a high THC level of between 25% and 27%. This range depends on many factors such as the amount of sunlight the strains receive throughout their growing period, variety of the plant, cultivation methods, among other factors. It is the product of crossing the classic Gorilla Glue #4 and Cookies and Cream strains.
Grease Monkey is an aromatic strain characterized by a sugary skunky diesel and an overtone of vanilla. The full-body effects start slowly behind the eyes before taking the entire body into a state of relaxation with calming and lulling effects. Due to its sedation and other positive effects, this strong Indica strain is ideal for treating insomnia, nausea, loss of appetite, among other recurring conditions.
Green Gelato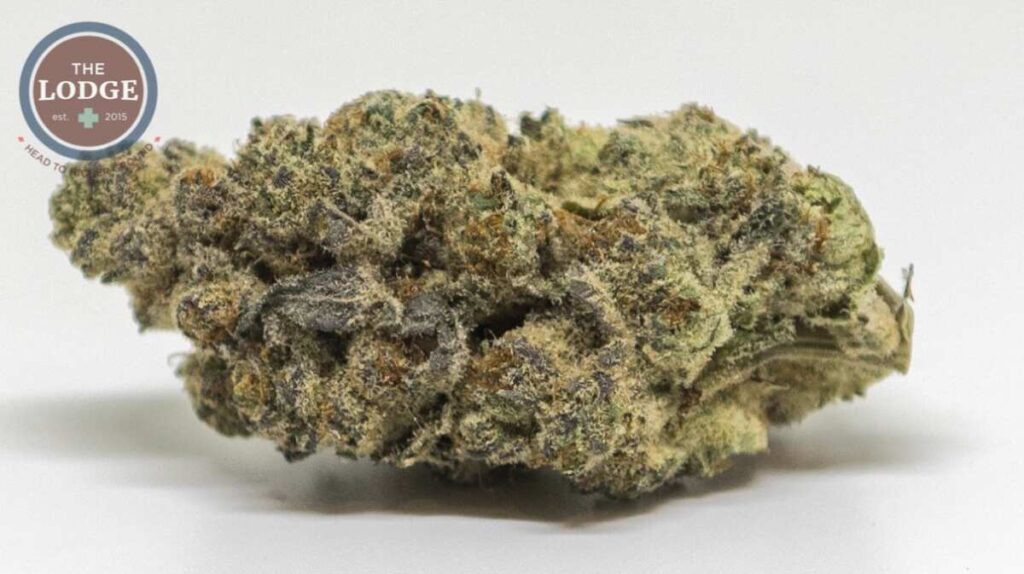 Most of the Indica weed strains have high THC levels even if it is not heavily Indica dominated. That is the case with the Green Gelato cannabis strain, which is an offspring of the highly potent Thin Mint Girl Scout Cookies and Sunset Sherbet. With just 55% Indica, it still has 25% THC on average. If you do not need excess Indica effects or need to benefit from Sativa, then Green Gelato is an option. You can take it at any time and still remain strong enough to handle your tasks, but that is only possible if taken in small doses.
Highest THC Indica Strains at The Lodge
We have seen the strongest Indica strains to buy in 2021, but where do you plan to buy your product? The Lodge has high-quality highest THC Indica strains. Visit our store or order online to get the most relaxing Indica strain for both recreational and medical use.
Source: www.thelodgecannabis.com/